Community Involvement
Hanania Completes Purchase of Southbank Office High-rise
by: Karen Brune Mathis | Editor
The automotive group owner said the $20.6 million deal closed Aug. 31 and tenant recruitment will follow.
Jacksonville-based Hanania Automotive Group owner and CEO Jack Hanania said Aug. 31 he completed the purchase of the former Stein Mart building on the Downtown Southbank for $20.6 million.
"We're ready to go to work," Hanania said.
Hanania said his team looks forward to relocating and becoming a part of Downtown. He intends to move his corporate headquarters there in the early part of 2022 and name it the Hanania Building.
"I'm confident it's good for the brand," he said.
"During the past five weeks we've had nothing but great feedback and support."
Hanania said July 25 he had a contract on 1200 Riverplace Blvd. property. Hanania grew up in Lakewood and lives in San Marco, both neighborhoods near the Southbank.
"I have a lot of passion for our Downtown and our community," he said in July.
His ownership is the first time in memory that a single individual has purchased a high-rise building Downtown to put a name on it. Hanania registered Hanania Riverplace LLC with the state July 27. He said that entity, which is part of Hanania Automotive Group, bought the property. The 10-story Class A building has 200,627 rentable square feet and an adjacent six-level, 525-space parking garage. The property comprises 1.92 acres. Hanania has not decided on which floor he will locate his team, which needs 10,000 square feet of space. He said in July he would move about 25 employees there.
Hanania Automotive Group now is based among its Blanding Boulevard dealerships. He said one of his first moves will be to recruit tenants. He said the building is 40% occupied, with about 120,000 square feet of space available for lease. Hanania said he is working with prospective tenants, but declined to identify them. He also said the change in ownership will be seamless for existing tenants.
"We have a great team in place to help us bring this building to its best use," he said.
Hanania bought the property from an affiliate of Virginia-based Lingerfelt CommonWealth Partners. LCP 1200 Riverplace LLC bought the garage and building, developed in 1985, for $23.625 million in 2016, according to Duval County property records.
Hanania said Commonwealth Commercial will continue to manage the property. Lingerfelt CommonWealth Partners had scheduled the property for auction but Hanania negotiated to buy it. Lingerfelt CommonWealth Partners issued a statement July 26.
"We are happy that our sale of 1200 Riverplace to Hanania Automotive Group will bring additional jobs and investment into downtown Jacksonville," said Robert Valentine, vice president of investments and asset management.
Jacksonville-based fashion retailer Stein Mart Inc. had its headquarters in the building, but the company filed for Chapter 11 bankruptcy in August and went out of business, vacating its offices. The Stein Mart name was removed from atop the building in November.
Hanania and an investment partner, Joe Hassan, own two Downtown Northbank buildings – the six-story historic Dyal-Upchurch Building at 6 E. Bay St., purchased in 2017, and the three-story Title & Trust Company of Florida Building at 200 E. Forsyth St., acquired late last year.
The automotive group employs about 1,000 people total among the office and dealerships, including 600 in Jacksonville. Hanania's group has 16 auto dealerships in Florida, Alabama, Pennsylvania and Tennessee. A 17th is scheduled to open by the end of 2022 in Myrtle Beach, South Carolina.
Hanania Automotive Group dealerships include Acura, Audi, Honda, Hyundai, Genesis, Infiniti, Subaru, Volkswagen, Ford, Chevrolet, Mitsubishi and Buick GMC. It also has three collision centers in Florida and Alabama.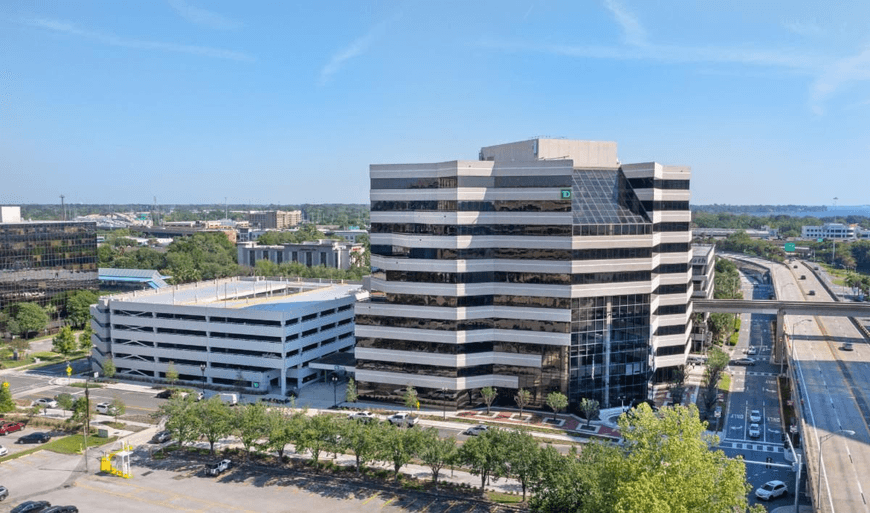 Hanania Automotive Group Partners with the Tom Coughlin Jay Fund for the Auto Maintenance Program
Working with the Tom Coughlin Jay Fund, the Hanania Automotive Group provided help for forty-five families in need of auto repair maintenance for pediatric oncology patient families suffering from financial impacts because of their child's diagnosis.